Okay, I have looked over numerous forum questions on this same thing and I still can't seem to figure this out. I'm not very tech savy, so I really need this broken down by what I specifically put in each box when making a custom command.
What I want to do is make a death counter, so that every time I die in a game, a simple command will count it up by one. I want a command, where viewers can simply look to see how many deaths I have so far. I want a command that allows me and moderators to simply add a death every time I die. Finally, I want a command that will reset those deaths when I move to a new game.
I have experimented with a number of different command combinations, following advice on this forum and I have not been able to figure it out. Here what I have tried and how it shows up in the chat.
!deaths
Command box: !death
Message box: Professor Webneck has failed his test 0 times.
!deathadd
Command box: !deathadd
Message box: -a=!commands -ul=mod edit !deaths $(channel) has failed his test $(count) times.
Here are the results: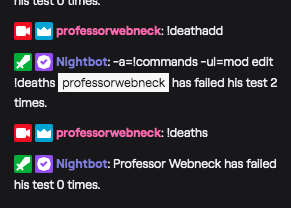 What am I doing wrong? Again, when answering, can you please tell me what I have to put in each exact box when making a custom command on its own line and only what is supposed to go into that box.