Data provided by https://pubgtracker.com <3
Usage
!pubg action username platform
Examples
!pubg kd xgerhard
xgerhard: xgerhard's K/D ratio: 3.73 (Top 12%, #385) [Solo].
!pubg time xgerhard
xgerhard: xgerhard's Time survived: 14 days, 18 hours and 45 minutes (354.74 hours) (Top 34%, #3,373) [Solo].
!pubg stats xgerhard
xgerhard: xgerhard stats summary: [Skill rating: 1944.4 (#63,038)], [K/D ratio: 3.73 (#385)], [Wins: 4 (#64,219)], [Top 10 placements: 7 (#2,179)], [Win %: 21.05 (#236)], [Time survived: 354.74 hours (#3,373)] [Solo].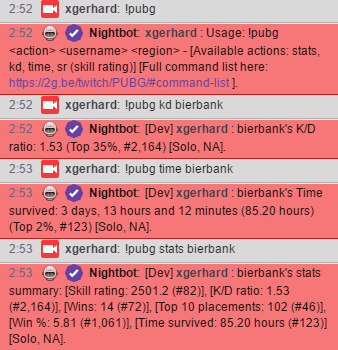 ,
Playlists
Available playlists: Solo, Duo, Squad (Default = Solo)
Get playlist stats by adding the playlist name before the action, for example:
!pubg duokd xgerhard (K/D ration in Duo's)
!pubg teamwinp xgerhard (Win % in the team playlist)
!pubg duosr xgerhard (Skill rating in Duo's)
Tip!
Use the setplayer command to link your PUBG account, for example:
!pubg setplayer xgerhard eu
Now when I use !pubg kd it will take my stats without entering the username.
Commandlist:
kd (Kill/Death ratio)
wins (Total wins)
losses (Total losses)
winp (Win %)
time (Total time survived)
kills (Total kills)
assists (Total assists)
suicides (Total suicides)
teamkills (Total teamkills)
heals (Total heals)
revives (Total revives)
boosts (Total boosts)
dmg (Total damage dealt)
dbno (Total DBNOs)
stats (Shows: Skill rating, KD, Win %, Time)
support (Shows: Heals, Revives, Boosts, DBNOs)
For the full list check here: https://2g.be/twitch/PUBG/#command-list
---
Installation is simple
Copy - Paste the following code in your chat:
!commands add -cd=5 -ul=everyone !pubg $(urlfetch https://2g.be/twitch/PUBG/command/query=$(querystring))
default_playlist - Set a default playlist for your users (solo, duo, squad), when no playlist is specified this playlist will be used.
For example &default_playlist=squad, when a user types !pubg stats xgerhard the command will now check the squad stats.
You can still force the command to check a different playlist, by typing for example !pubg duostats xgerhard na to check the duo playlist stats.
---
Need help? Post here, or contact @gerhardoh on twitter.