Hello!
In cooperation with csgo.tracker.network I developed a Custom API to display your CS:GO stats + rank in the world in your Twitch chat.
Command:
!commands add !csgo -cd=5 -ul=everyone $(urlfetch https://2g.be/twitch/CSGO/command/bot=nightbot&provider=$(provider)&user=$(user)&channel=$(channel)&query=$(querystring))
Please dont change any variables in the command, just copy paste this command in your chat.
Usage
!csgo <action> <Steam ID / Custom URL>
Examples:
!csgo kd 76561198083898715
[Dev] xgerhard: TomPLZ's K/D ratio: 1,20 (#2.493.459, Top 29%).
!csgo time ZaWhiteRabbit
[Dev] xgerhard: ZWR's hours played: 1.183.212 (No rank, Top 24%).
Notice:
Use the last part of your Steam URL, just the ID or custom URL part. Links will probably result in timeouts.
Tip: Use !csgo setplayer <Steam ID/Custom URL> to link your Account: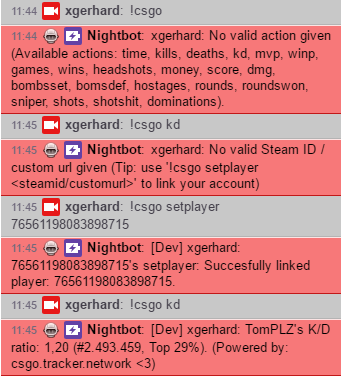 Commandlist:
time (Total playtime in hours)
kills (Total kills)
deaths (Total deaths)
kd (Kills/deaths ratio)
mvp (MVP count)
winp (Win %)
games (Total games played)
wins (Total games won)
headshots (Total headshots)
money (Total money earned)
score (Total score)
dmg (Total damage dealt)
bombsset (Total bombs set)
bombsdef (Total bombs defused)
hostages (Total hostages rescued)
rounds (Total rounds played)
roundswon (Total rounds won)
sniper (Total snipers killed)
shots (Total shots fired)
shotshit (Total shots hit)
dominations (Total dominations)
Full up to date action list here: https://2g.be/twitch/CSGO/
Alias commands
When you installed the !csgo command, you can easy setup alias commands for example:
!commands add !kd -a=!csgo kd xgerhard
Now when someone uses !kd the following command will be executed: !csgo kd xgerhard
Questions or feedback?
Twitch: Xgerhard
Twitter: @Gerhardoh
Discord: Xgerhard#2439