Hello!
In cooperation with Battlefieldtracker I developed a Custom API to display your Battlefield 1 stats + rank in the world in your Twitch chat.
Command:
!commands add !bf -cd=5 -ul=everyone $(urlfetch https://2g.be/twitch/BF/command/query=$(querystring)&defaultconsole=xbox)
You can set the default platform by changing Xbox in the url, available platforms xbox, ps, pc.
Usage
!bf <action> <Username> <Platform>
Action - See command list below.
Username - EA username / Gamertag / PSN.
Platform - pc / xbox / ps.
Note: Console Stats partially available, if you haven't played Battlefield 4 or Hardline your profile might not be found, Battlefieldtracker is working on alternative methods to get your profile, however there is no ETA yet.
Examples:
!bf kills Scudze xbox
[Dev] xgerhard: Scudze's total kills: 7.333 (#7, Top 1%).
!bf kd Zelexiv pc
[Dev] xgerhard: Zelexiv's K/D ratio: 2,90 (#565, Top 9%).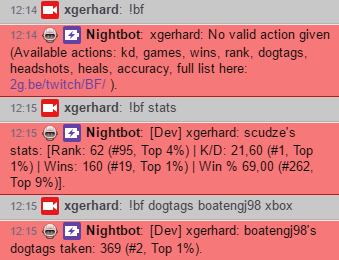 Tip: Use '!bf setplayer < Username > < Platform >' to link your Account: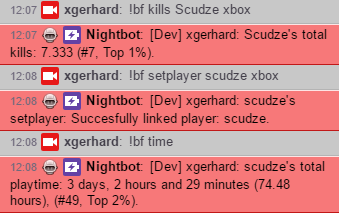 Commandlist:
stats (Overview with KD / Rank / Wins + Win % )
time (Total playtime)
kills (Total kills)
deaths (Total deaths)
kd (Kills/deaths ratio)
winp (Win %)
kpg (Kills per game)
kpm (Kills per minute)
losses (Total losses)
wins (Total wins)
rounds (Total rounds played)
rank (Current rank)
lvl (Alias of rank)
skill (Skill level)
spm (Score per minute)
accuracy (Accuracy %)
akills (Avenger kills)
dogtags (Total dogtags taken)
flagsc (Flags captured)
flagsd (Flags defended)
headshots (Headshots given)
lks (Longest killing spree)
assists (Total assists)
lhs (Longest headshot)
nkills (Nemesis kills)
lns (Longest nemesis spree)
repairs (Total repairs)
revives (Total revives)
skills (Total savior kills)
squad (Total squad score)
contact (contact info)
Full up to date action list here: https://2g.be/twitch/BF/
Alias commands
When you installed the !bf command, you can easy setup alias commands for example:
!commands add !kd -a=!bf kd xgerhard
Now when someone uses !kd the following command will be executed: !bf kd xgerhard
Questions or feedback?
Twitch: Xgerhard
Twitter: @Gerhardoh
Discord: Xgerhard#2439