Hey hey,
i have a bug, or not well running Version of BTTV not in Chrome itself, but in an embbed Browser named "CefSharp". CefSharp is a Cromium based embbed Browser for C# wpf.
I´m programming a little Application, just for me, and tried to implement the Popup Chat over the CefSharp Browser.
That worked great but i want to see BTTV emotes aswell, so i searched a way to implement BTTV too.
After a while i figured it out how i can run both with the CefSharp Browser.
But everytime i write an BTTV Emote to the Chat, a second and third line are written behind the Emote with informations to this Emote. Does anyone have a bit experience with it, and know how to fix this?
That would be very Awsome.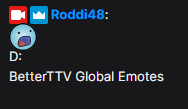 Greetings,
Roddi