!game doesnt work. comes up twitch api error and undefined when changing game. all other commads work fine.
Hey @vkomn!
Please use the search bar before opening a new topic.
On twitch or nightbot? I have did both a couple times.
If you click on the link in my answer you'll be redirected to Nightbot, so the latter.
You should have said so from the start then.
---
Please try logging out of Nightbot's dashboard once more, wait a few minutes and then log back in.
Just in case, this is where you log out (top right corner):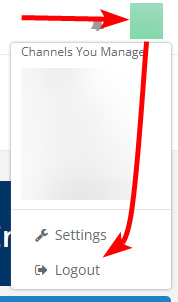 ---
Have you recently changed Twitch username?
This topic was automatically closed 14 days after the last reply. New replies are no longer allowed.