so im trying to set up a death counter thats easy to manage, and i have one that works that i can't clear without having to log into nightbot.tv and manualy resetting it every stream. will do this is i have too, but id rather be able to do it from chat for convenience.
the one i tried is:
One for any user to see:
!addcom !kills The Current Kill Count is:
And another command to change it using a $(alias).
!addcom -ul=mod !editkills $(alias !editcom !kills The Current Kill Count is: )
The use is simple any user can use the !kills command to see the amount of kills. And any mod (or what ever you choose) can change it using the !editkills with a number after it.
Example:
AnyMod: !editkills 10
Nightbot: The command !kills has been changed!
AnyUser: !kills
Nightbot: The Current Kill Count is: 10
But i get an error of: BearrsGoRawwr : !editkills 1
Nightbot : [invalid variable]
if i do basically the same thing in the nightbot webpage it works but i have to change the message section to $(count) for it to actually put a number there so it looks like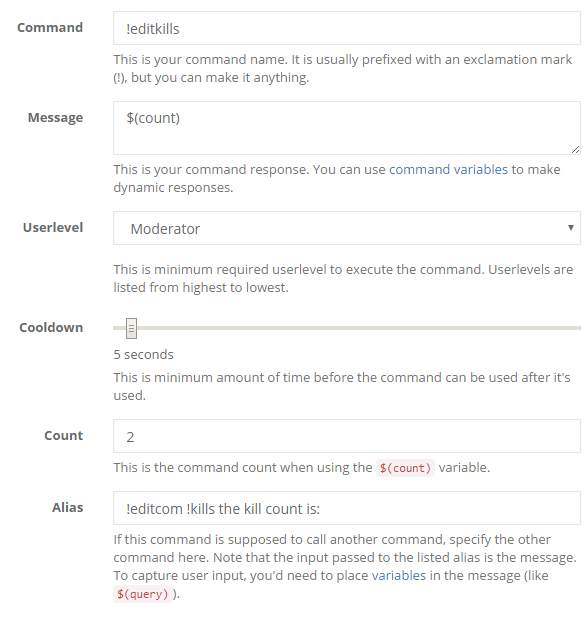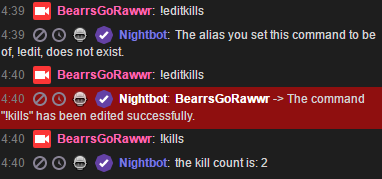 what kind of command/string do i need to be able to clear the count back to 0 from chat?
My other option was:
!addcom !example command used $(count) times
Nightbot: command used x times
!addcom !reset -a=!commands edit !example -c=0
Nightbot: The command !example has been edited successfully
BUT with that i dont know how to pull the actual $(count) without adding too it. if anyone has tips or hints im open to suggestions i've been sitting here for a few days trying anything i can think of and it's just not happening for me.
Thanks in advance