Today some updates have been released for Streamtip, with much thanks to everyone's suggestions on our UserVoice idea forum.
First, I would like to touch on some features which were released in January but were not announced (we now have an Announcements forum for making posts like this).
1) More Granular Analytics (9 Votes)
We added graphing directly to the Tips page to allow you to better visualize your tips. As you change the date range in the upper right of the page, the graph and total will also change to match your chosen timeframe. Similarly, the CSV export also corresponds to the date range chosen.
2) Two Factor Authentication and Audit Log
We realize the Internet isn't as safe as it used to be, and with websites your password just isn't enough anymore. You can add Two Factor Authentication (2FA) to your Streamtip account as a second password to your account. Use Google Authenticator (or Authy) on your iOS or Android device to turn your device into a second one-time-use password generator. Just in case someone manages to login, we've also added a log of account activity to make sure you know who's been logged into your account. You can head to your security page to enable 2FA on your account. Just make sure you save your backup codes, as you never know when you might lose your device.
3) Coinbase
If you have been around since before Streamtip replaced StreamDonations, you'd know we were previously using Coinbase and swapped to Blockchain.info to power bitcoin tips. Unfortunately there have been complications with the Blockchain.info API, like delayed notifications. In order to provide a more stable bitcoin service, Coinbase was reimplemented. Coinbase provides a stable and simplistic way for streamers to accept bitcoin. If you haven't tried out Coinbase, I highly recommend doing so by enabling it in your payment settings.
Now that we've caught up to March, it's time to reveal our newest features:
1) Ability to force viewers to supply their actual username on the tipping form (36 Votes)
Setting:

Tipping Page:

As trolls become more frequent, usernames might be used for impersonation and potentially obscene purposes. Because of this, we felt it necessary to give streamers the ability to enforce usernames be used. You can toggle this on in your tipping page settings.
2) Tipping Page Leaderboard (61 Votes)
Setting:

Tipping Page:

The cumulative top tippers can now be displayed on your tipping page, with or without the amount shown. You can toggle this on in your tipping page settings. In addition to the leaderboard, we created an API for this leaderboard information as requested on the UserVoice. You can check out documentation for that API endpoint on our API documentation page.
3) PayPal's Express Checkout
Streamtip now uses PayPal's Express Checkout system in order to send tips. Instead of the outdated checkout page Adaptive Payments was using, Express Checkout brings a much needed design overhaul to PayPal's checkout page.
4) Dailymotion Authentication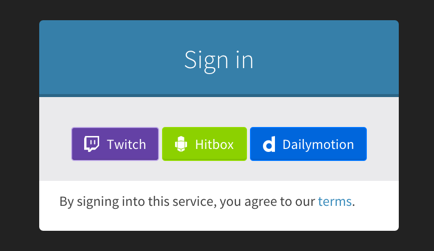 We've added Dailymotion to the list of streaming sites compatible with Streamtip, and you can now login with Dailymotion from the login page.
In addition to these website changes, we've also pushed some new features to the Streamtip Alerter.
1) Display the Largest Tip Ever (83 Votes)
3) Recent Tips Populate the App on Launch (41 Votes)
4) Ability to Run in the System Tray (35 Votes)
5) Always on Top option (25 Votes)
In total, that's 12 new features (amongst a slew of bug fixes) totaling 359 votes on the UserVoice. That's a ton of votes, and we hope to keep features rolling out dependent on suggestions. Keep adding votes and submitting ideas, as it helps us know where to focus our attention.