Hello,
I overwrote the !commands line by accident with this (I didn't realize there were some things in there that shouldn't have been there cuz I was copy pasting): !addcom !commands edit !howlong $(urlfetch https://api.rtainc.co/twitch/channels/$(channel)/followers/$(touser)?format=[1]+has+been+following+[0]+for+[2]). I was able to delete the custom !commands but now what happened is that the default !commands does not work. I am a mod for a channel, this is not for my channel, if that makes a difference.
I looked around and saw that the default commands shouldn't be able to be deleted and so once you delete the custom one it should revert back to the default one, but this is not the case here.
I had created a custom !commands again with the link to the commands page and then tried to delete that and try the !commands command again but did not work.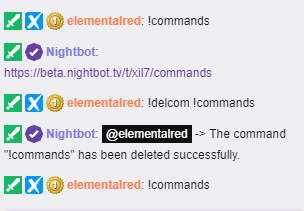 Thanks