Good day,
First of all, yes, I did search and yeah, multiple users appeared to have the same problem. However, all of those were resolved without a solution by simply "having it fixed", which isn't helping my cause. Maybe I'm doing something wrong? Anyway, I've followed the installation on the main site, installed the OBS version presented there and then proceeded to set it up.
What I've been using as my URL is the following:
https://www.nightdev.com/hosted/obschat/?theme=bttv_dark&channel=pumarius&fade=false&bot_activity=false&prevent_clipping=true
Which seemingly works - it does connect at least. This leads me to my OBS setup, which is just gameplay footage, which works just fine and then the following: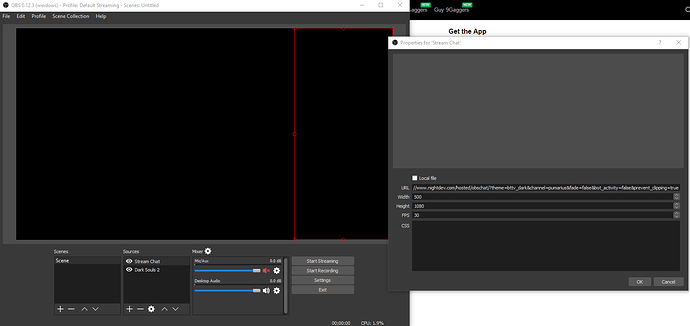 Browsersource, set to the URL provided by the Kapchat generation process, it's the same I use to connect to the browser, however, no matter what I try, it never shows the any of the chat messages, not even the loading process on stream. The gameplay footage works as intended and is below the chat - I've double checked multiple times, I'm streaming in 1080p with a 8000 bitrate if that matters.
Have a wonderful day, I hope someone can help me with this~