It's now been over a year since Streamtip launched (on July 15th, 2014), and these updates reflect major changes in the operation of Streamtip.
Lets start by covering new features which have been requested on our UserVoice.
Tip Goals - 157 votes

You can now make personal tip goals on Streamtip, which when set to active will apply to all new tips you receive. On your tipping page users will be able to see your active goal and the progress made towards it. We also have a embeddable interface that you can embed within OBS and XSplit for live goal updates, and our Streamtip Alerter application has been updated to output goal state to a file if you'd rather have that type of functionality instead.
Embed Codes - 75 votes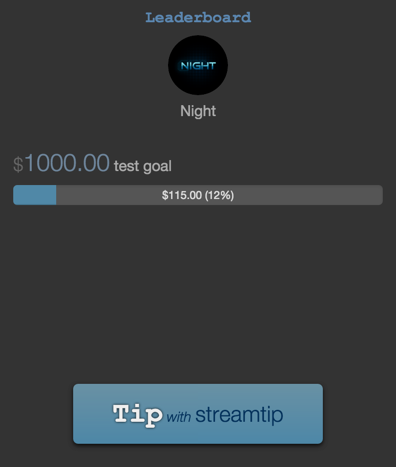 We now have an embed widget generator so you can post your Streamtip on your website. It comes in light and dark themes.
---
These are just the large updates. For a full list of all features we've added that have been requested, you can check them out on UserVoice.
---
With new features out of the way, we can now focus on the major change to Streamtip, effective immediately: Streamtip is now a free service.
As mentioned earlier, it's been a year since Streamtip was launched. Over the past year we've been seeing consistent month-over-month drops in users, despite attempting to implement the much desired features users have suggested on our UserVoice and seeing an overall increase of Twitch's userbase.
Streamtip was designed as an extensible tipping platform that we hoped would be integrated into third party alerters, rather than us building and maintaining our own on top of the platform itself. It seems that we just cannot compete with all-in-one services like TwitchAlerts and the new Streampro.io, which Streamtip was never designed for.
Streamtip also sought to professionalize accepting money from viewers. Many other competing services misnomer tips by calling them donations. "Donations" is a term for giving to charity, not for thanking a broadcaster for their entertainment. We rebranded to Streamtip in an effort to fix this misnomer. Even a year later, "donations" is still the primary term being used by most of our users, despite the website not containing the word "donation" anywhere.
To me, I consider Streamtip to be a failure of the purposes set out for it. Streamtip seems to have missed the mark of what users wanted in a tipping platform. We were (in my opinion) one of the best a year ago, but considering our competition now there's no way we can really compete. Stream alerts are getting increasingly convoluted and more ridiculous (gimmicky) every day, and I do not really want to be a part of that movement (chat alerts, anyone?).
These are much of the thoughts that have gone into Streamtip going free. As for what will come of Streamtip, I have no idea. For now, focus will shift towards other services like Nightbot and BetterTTV.